Tips for Avoiding Air Barrier Installation Issues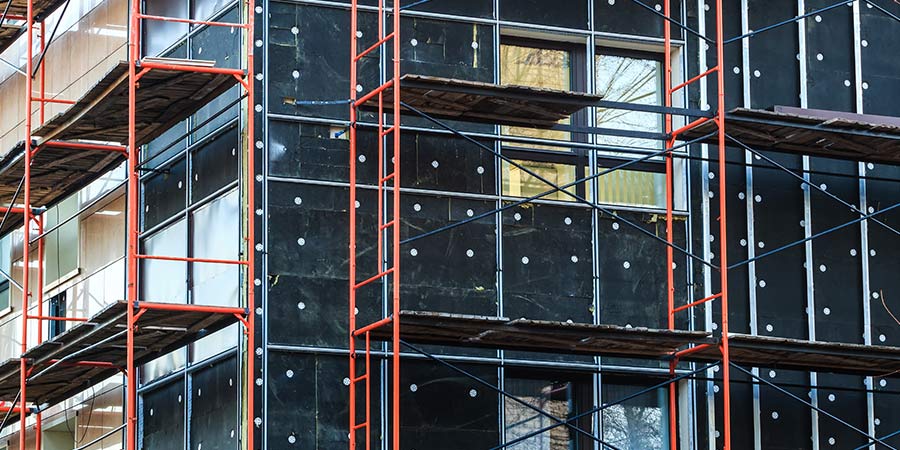 Proper air barrier installation
So you've selected the ideal air barrier for your building project. Now what? Proper installation is critical to achieving the benefits of a continuous air barrier. As with many construction tasks, getting the details right is the key to a successful outcome. Consider the following tips:
Pay attention to penetrations: Even a small gap in the building envelope can allow air leakage that reduces energy efficiency and potentially causes moisture damage to the wall assembly. That's why a continuous air barrier is so critical. Make sure any through-wall penetration—such as pipes, conduits, ventilation hoods, electric boxes, etc.—is properly flashed and detailed to create an airtight, watertight seal. Proper detailing using compatible flashing and detailing products is required for all windows and doors as well.
Use compatible fasteners: For fasteners applied on top of the air barrier, such as those used to secure cladding, make sure they are compatible with the installed air barrier to ensure a water and air tight seal. Contact the air barrier manufacturer up front to confirm the use of the correct fastener system and help avoid a costly mistake.
Secure end-of-day terminations: When air barrier installation lasts over multiple days, take time to secure temporary terminations with a compatible sealant at the end of the workday. This is important to protect the top edge of a self-adhered air barrier from wind or rain until the crew returns to the worksite.
Build a mockup: One of the best ways to identify and solve potential installation issues beforehand is to build a mockup of your wall, with examples of penetrations, fasteners, insulation, and cladding to be used on the project. You'll quickly see where the potential problems are, so you can solve them before they can negatively impact your project schedule or budget.
Provide air barrier education: Making sure your installation crew knows the proper way to install the air barrier is essential. But it's also a good idea to help them understand the underlying concepts of an air barrier and how it functions in a wall assembly. With this understanding they will be better equipped and motivated to install the air barrier correctly.
Have a question about air barrier installation?
---
"Question on a project? Design Advantage experts provide technical consultation throughout project design and construction. We'll work closely with your team to get everybody on the same page, from specification to installation."
Tags
Air barriers
Architects
Building Envelope Solutions
Consultant
Contractor
Distributor
Engineer
Field support
PERM-A-BARRIER®
Subcontractor
Underlayment
Weather barriers