Air Barriers & Flashing for Advanced Weatherproofing
PERM-A-BARRIER® products are the industry's leading air barriers and flashing for commercial buildings. They protect structural components from damage caused by uncontrolled airflow and associated moisture.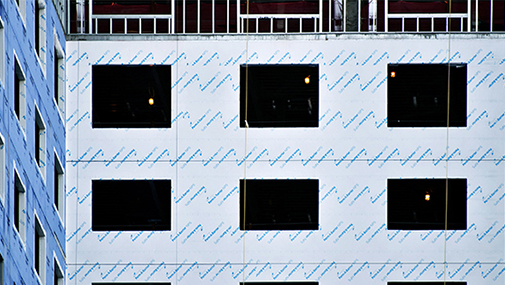 Defend your building from deteriorating with PERM-A-BARRIER® products
The uncontrolled movement of air in your building can lead to mold, mildew and deterioration. Each pose serious threats to your building's structural integrity. Unchecked airflow also hurts air quality for your tenants. In addition, it can cause the loss of up to 40% of heating and cooling energy, states the National Institute of Standards and Technology, part of the U.S. Department of Commerce. 
By using the PERM-A-BARRIER® system consisting of air barriers, flashing and accessories, your building envelope is protected. They save you time and money because they're easy to install. Plus, they defend your building against unwanted air leakage for generations.
PERM-A-BARRIER® product portfolio
PERM-A-BARRIER® Product Solutions
PERM-A-BARRIER® products help create complete building envelope solutions
For fast and simple installation, PERM-A-BARRIER® products come in sheet and liquid options and in vapor-permeable and non-permeable technologies. Contractors can apply them easily to most commercial building surfaces, including concrete, green concrete, steel, brick and modular vinyl. We offer an NFPA 285 compliant air barrier solution for every project.
To complete your building envelope system, we offer several leading brands for all your above-grade and below-grade waterproofing needs that are fully compatible with PERM-A-BARRIER® products.
PERM-A-BARRIER® accessories include:
Flashings in both liquid and sheet options

Detail membranes

Sealants

Adhesives and primers