ELIMINATOR® and Bond Coat 3 provide high performance adhesion combined with durability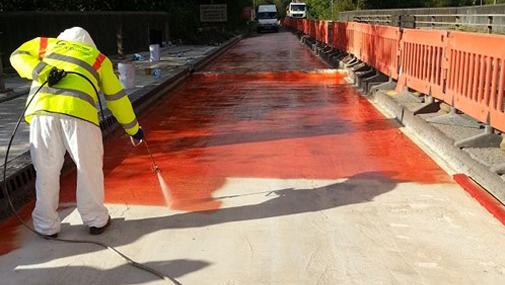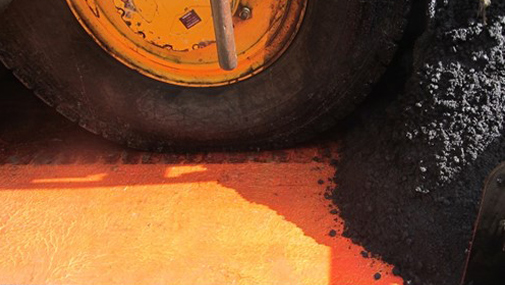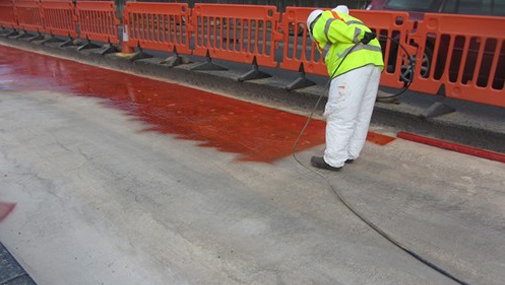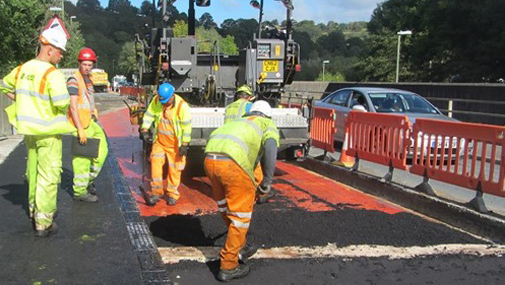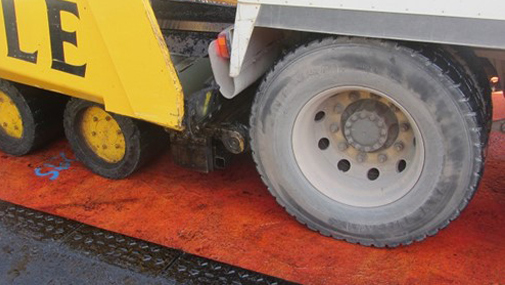 Client
Caerphilly County Borough Council
Contractor
Dyer and Butler
Authorized Contractor (Waterproofing Applicator)
Metrail
GCP Solutions
ELIMINATOR® Bridge Deck Waterproofing System, METASET® concrete system, Bond Coat 3
Project
Choosing a quick curing solution
The Crumlin Bridge was leaking, with corrosion evident in the structure. It required a new waterproofing solution as part of the refurbishment works to the bridge. In addition, due to the schedule of works, the project team required a solution that would enable the tack coat to be trafficked prior to laying the asphalt.
The bridge became another structure to benefit from the third generation bond coat in conjunction with the market leading ELIMINATOR® waterproofing system from Stirling Lloyd (now GCP Applied Technology). The development of Bond Coat 3 represents a major leap forward in the provision of high-performance, heat activated bond coats.
Challenge
Keeping Traffic Moving
Factors such as possession working, limited access, restricted working hours, and traffic management all needed to be considered. Since there wasn't going to be a full road closure on this site, the refurbishment works had to be split into two phases over a short period of time. This included deck preparation, installation of expansion joints, application of the waterproofing system and the installation of curbs, followed by the asphalt binder and surfacing courses.
Solution
A waterproofing solution to aid project completion
The specifier selected ELIMINATOR®, which is based on unique ESSELAC® technology, as well as Bond Coat 3, a cold reactive resin system providing a durable, protective finish, resistant to site damage with unlimited open time prior to application of the surfacing..
Prior to application, shot blasting and fine milling was carried out, with the METASET® concrete system being used to repair rough and damaged areas of the bridge deck in preparation to receive the waterproofing system. The deck was primed to seal the deck and promote excellent bond between the deck and the membrane
The ELIMINATOR® membrane was then cold spray-applied and checked using a wet film gauge to confirm the required coverage and thickness had been achieved. Once the waterproofing membrane had been applied and left approximately 30 minutes to cure, it was electrically integrity tested (holiday detection test) to confirm that a defect-free, fully waterproof barrier had been achieved.
Bond Coat 3 was then spray-applied. The durability and unlimited open time of Bond Coat 3, allowed flexibility in the schedule and the following trades to proceed in compliance with the programme of works without unnecessary delays, saving time, money and further disruption. Due to the success of the project on the first 1150 metres of carriageway, the second phase of the project went ahead as planned completing the refurbishment of the Crumlin Bridge.
Blue360sm Total Business Advantage.
The power of GCP products, performance and people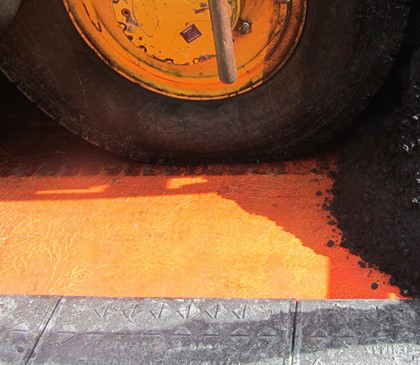 ca.gcpat.com | North America customer service: 1-877-4AD-MIX (1-877-423-6491)
Ce document est à jour seulement à la date de la dernière mise à jour indiquée ci-dessous et n'est valide que pour une utilisation au Canada. Il est important que vous consultiez toujours les informations actuellement disponibles sur l'URL ci-dessous pour fournir les informations les plus récentes sur le produit au moment de l'utilisation. Des documents supplémentaires tels que les manuels de l'entrepreneur, les bulletins techniques, les dessins détaillés et les recommandations détaillées ainsi que d'autres documents pertinents sont également disponibles sur www.ca.gcpat.com. Les informations trouvées sur d'autres sites Web ne doivent pas être utilisées, car elles peuvent ne pas être à jour ou applicables aux conditions de votre site et nous déclinons toute responsabilité quant à leur contenu. S'il y a des conflits ou si vous avez besoin de plus d'informations, veuillez contacter le service client de GCP.
Last Updated: 2018-12-12
https://ca.gcpat.com/en/about/project-profiles/crumlin-bridge-protected-spray-applied-waterproofing