A residential construction project utilizes Vycor® enV™ weather barrier to guard against Maine winters.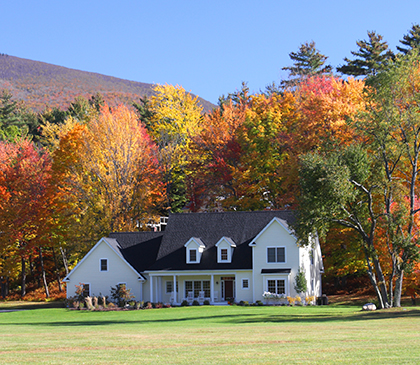 Project
Private Home, Biddeford, Maine
General Contractor
Michael Lapointe General Contracting, Biddeford, Maine
Supplier
Deering Lumber, Biddeford, Maine
GCP Solution
Vycor® enV™weather barrier, Vycor® enV™ tape, and Vycor® Plus Flexible Flashing
Project
When owners of a Maine home found the cedar clapboard siding on their ranch was splitting and cracking, they knew they needed help. So, they took on a residential construction project with the help of Michael Lapointe General Contracting.
"I found Vycor® enV™ is much easier to install than housewraps, especially on rehab jobs. The product met my needs for ease of installation and met the new energy codes. And it met the homeowner's need for energy efficiency."
Challenge
Not only did the homeowners need new siding, they also wanted to find a way to make their home more energy efficient. With new energy codes, traditional residential construction housewrap now requires tape at every wrap seam and cap nails or cap staples instead of regular staples, making its application increasingly time-consuming and costly. So simply by using a better weather barrier, the contractor could help his customers realize energy savings without the need for additional insulation and its added cost.
Fortunately, Michael Lapointe of Michael Lapointe General Contracting had just the solution in mind. While in the residential construction business for over 30 years applying housewrap to countless homes, he'd learned about a more energy efficient weather resistive barrier–Vycor® enV™, a high performance fluid-applied product that protects against water and air intrusion.
"I'm very impressed with Vycor® enV™. It was a lot easier to apply overall than putting on housewrap. And unlike house-wrap, it won't blow off in the wind. "
Solution
"Vycor® enV™ replaces regular housewrap—it envelops the whole house and makes a better bond, sealing the house without all the seams," said Lapointe.
The fully adhered Vycor® enV™ system is easier to apply than traditional products. Sprayed or rolled on, Vycor® enV™ completely covers all seams and fasteners, forming a seamless protective barrier throughout the home. The vapor permeable barrier breathes to prevent water vapor from building up inside while protecting against water intrusion and acts as an air barrier, reducing energy costs.
Lapointe was pleased that he could roll on the product, eliminating the need to tape off all the windows during spraying.
"Since it was a rehab job with all the windows and doors already in place, rolling  the wrap around all these obstructions would have been very difficult," added Lapointe. "Even when rolling housewrap on new construction, it tends to be a pain. But I found the Vycor® enV™ really easy to work with."
The Results
Vycor® enV™ was applied throughout the residential construction project, Vycor® enV™ tape was used to cover all the plywood sheathing joints, and Vycor® Plus Flexible Flashing was installed around windows and doors where integration of the flashing to the weather resistive barrier is critical.
GCP's technical support team spent the first day on the job site to provide any needed guidance—and even the distributor and the local supplier showed up to see the innovative product being quickly installed.
The result is a more energy efficient home, pleased homeowners, and a satisfied contractor with a new way to help his customers. "The homeowners got a far superior product with enV™," said Lapointe. "I'm sold on the product and will continue to use it and keep recommending it to others."
Blue 360sm Field Advantage: Our team is your team.
ca.gcpat.com | North America customer service: 1-877-4AD-MIX (1-877-423-6491)
Ce document est à jour seulement à la date de la dernière mise à jour indiquée ci-dessous et n'est valide que pour une utilisation au Canada. Il est important que vous consultiez toujours les informations actuellement disponibles sur l'URL ci-dessous pour fournir les informations les plus récentes sur le produit au moment de l'utilisation. Des documents supplémentaires tels que les manuels de l'entrepreneur, les bulletins techniques, les dessins détaillés et les recommandations détaillées ainsi que d'autres documents pertinents sont également disponibles sur www.ca.gcpat.com. Les informations trouvées sur d'autres sites Web ne doivent pas être utilisées, car elles peuvent ne pas être à jour ou applicables aux conditions de votre site et nous déclinons toute responsabilité quant à leur contenu. S'il y a des conflits ou si vous avez besoin de plus d'informations, veuillez contacter le service client de GCP.
Last Updated: 2018-12-12
https://ca.gcpat.com/en/about/project-profiles/maine-takes-an-innovative-approach-towards-residential-construction