Incheon International Airport utilizes MONOKOTE® and GRACE ICE & WATER SHIELD®.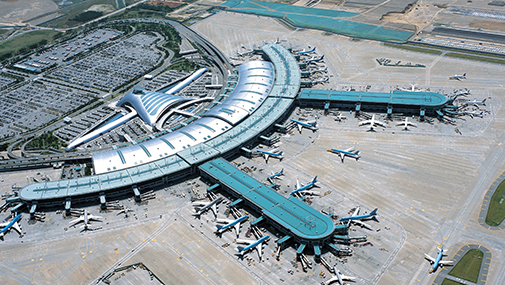 Project
Incheon International Airport, Seoul, South Korea Architect Terminal: Fentress Korean Architects Collaborative
Project
Credits
Architect Terminal: Fentress Korean Architects Collaborative International
Architect Transportation Centre: Samoo Architects & Engineers
Architect KAL Cargo Centre/Hangars: ShinHan Architect
Fireproofing Applicators Terminal: WooSung KeonUp
Fireproofing Applicators KAL Cargo Centre/Hangars: JoongAng Co.
Roof Contractor Terminal: Han Jin Consortium (main) Han Maek Heavy Ind. Co., Ltd. (sub)
Roof Contractor Transportation Centre: Transportation Centre J/V (main) Han maek Heavy Ind. Co., Ltd. (sub) Kyung Nam Aluminium Co., Ltd. (sub)
Control Tower Contractor: Kumho Construction Co.
Control Tower Concrete Supplier: SsangYong Cement Industrial Co., Ltd
High Bridge Contractor: Hanjin, Samsung, Dongah & Daeyang
High Bridge Concrete Supplier: SsangYong Cement Industrial Co., Ltd
GCP Solutions: MONOKOTE® fireproofing, GRACE ICE & WATER SHIELD® roofing underlayment
Located on Yeongjong island, about 50 km from Seoul, South Korea, the Incheon International Airport is 60 times the size of a football field and boasts the second tallest control tower in the world. Its two runways allow takeoff and approach over the sea, and the terminal facilities are designed to handle 27 million passengers annually.
GCP Applied Technologies is proud to have been associated with this prestigious, state-of-the-art airport construction project.
"All GCP Applied Technologies materials were installed by experienced, trained applicators and the architect and general contractor were delighted with the resulting quality and timeliness of completion."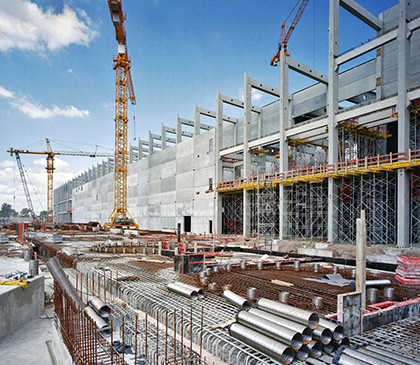 The protection of such a structure from the transgressions of fire and water is an important issue. The choice of fireproofing and waterproofing materials used had to take into account not only product quality and performance, but also application efficiencies and quality control on site.
During airport construction of the control tower, which is one of the most prominent features of the project, the designers were challenged to achieve a very high quality finish to the concrete surface. The concrete supplier, SsangYong, tested a large number of admixtures from different companies to assess performance in meeting the plastic and hardened concrete requirements.
MONOKOTE® fireproofing and GRACE ICE & WATER SHIELD® roofing underlayment were chosen and used in many parts of the airport construction.
About 51,000 m2 of MONOKOTE® MK®-6/HY® and MONOKOTE®  Z-106 were used extensively in the main terminal building, the general hangars and the Korean Air Cargo Centre.
More than 130,000 m2 of GRACE ICE & WATER SHIELD® roofing underlayment were used in the Transportation Centre, and Main Terminal roofs.
As for the control tower, SsangYong chose concrete admixtures from GCP Applied Technologies, which proved to deliver the best overall performance. These concrete solutions helped by providing slump retention and very good off form surface finish. There was no need for subsequent surface treatment. As a result of its success on the Control Tower, similar solutions were also used in the construction of the high bridge.
---
The Results
MONOKOTE®'s proven in place performance has made it one of the most widely applied fireproofing materials in the world. GRACE ICE & WATER SHIELD® underlayment provides the assurance of a tight seal around penetrations from the metal roof surface, which pass through the assembly to the structural elements below. It has performed in the critical areas under the most severe climatic conditions to protect against wind driven rain and the effects of ice dam build up beneath shingles.
Throughout the airport construction project, GCP provided full support to the applicators, architect and general contractor. Its technical team made frequent site visits to routinely check bond strength, applied thickness and to ensure equipment maintenance.
Blue 360sm Field Advantage.
Our team is your team.
ca.gcpat.com | North America customer service: 1-877-4AD-MIX (1-877-423-6491)

GCP Applied Technologies Inc., 2325 Lakeview Parkway, Suite 450, Alpharetta, GA 30009, USA
GCP Canada, Inc., 294 Clements Road, West, Ajax, Ontario, Canada L1S 3C6.
This document is only current as of the last updated date stated below and is valid only for use in the Canada. It is important that you always refer to the currently available information at the URL below to provide the most current product information at the time of use. Additional literature such as Contractor Manuals, Technical Bulletins, Detail Drawings and detailing recommendations and other relevant documents are also available on www.gcpat.com. Information found on other websites must not be relied upon, as they may not be up-to-date or applicable to the conditions in your location and we do not accept any responsibility for their content. If there are any conflicts or if you need more information, please contact GCP Customer Service.
Last Updated: 2023-01-03
https://ca.gcpat.com/en/about/project-profiles/monokote-and-grace-ice-water-shield-protect-incheon-international-airport