ELIMINATOR® waterproofing system protects essential transportation link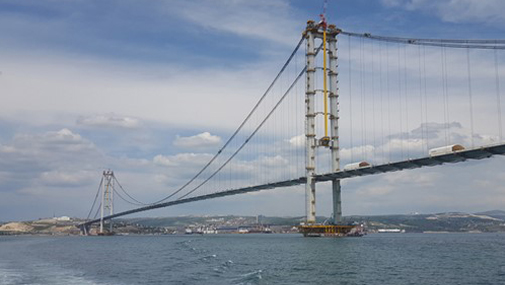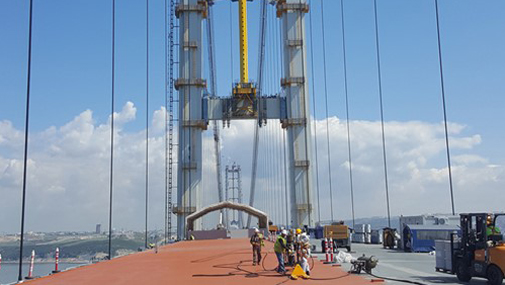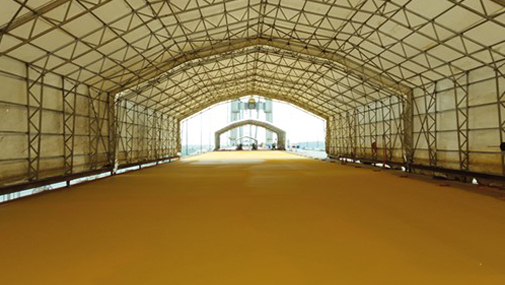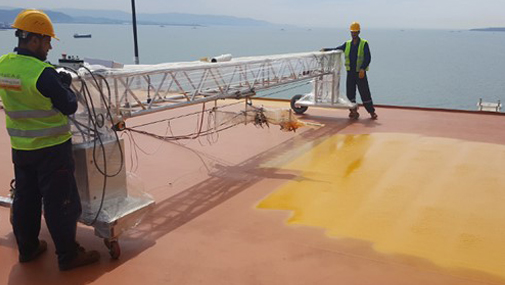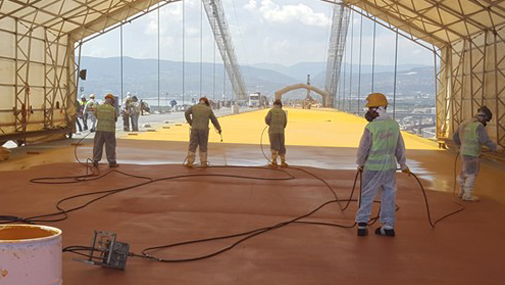 Project
Osman Gazi Bridge, Turkey
Client
Turkish State of General Directorate of Highways
Authorized Contractor (Waterproofing Applicator)
ERSE Teknolojik Yapi Endustri A.S.
GCP Solutions
ELIMINATOR® system, SAFETRACK® HW high friction surfacing system
Project
Revolutionizing travel in the region
Built over the Sea of Marmara in Turkey's Izmit Bay between 2013-2016, the Osman Gazi Bridge, or "Izmit Bay Bridge," as it is often referred to, is the fourth longest suspension bridge in the world.
Spanning more than 1.5km, the bridge's construction revolutionized travel between the north and south of the country, enabling passengers to make the journey across the sea in just three minutes instead of taking the one-hour ferry ride or the high-traffic 100km detour over land. The bridge opened to service in June 2016.
The bridge has become a highly trafficked route through the country, both for Turkish locals and for global businesses to transport their goods between Asia and Europe.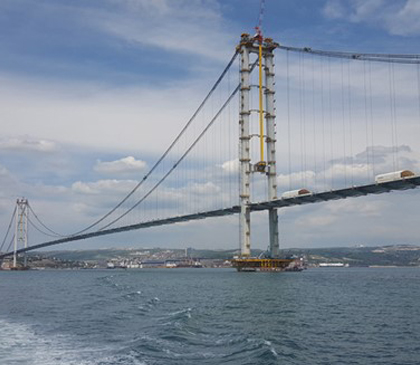 Challenge
Long-lasting protection for new bridge
Waterproofing on the Osman Gazi Bridge needed to offer tough, durable and long-lasting protection in order to reduce the need for future maintenance. Given the time limitations on the construction work and the nature of the structure, the selected bridge deck waterproofing system needed to not only provide proven long lasting protection, but allow quick and easy application and importantly, it needed to have minimal environmental impact over its lifetime.
Solution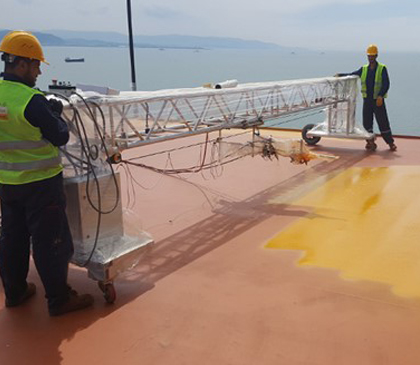 Speed and ease of application
KGM specified the ELIMINATOR® system from Stirling Lloyd (now GCP Applied Technologies) for the bridge deck waterproofing, based on numerous other high-profile collaborations.
Having worked on several major projects in the country over the past thirty years, Stirling Lloyd (now GCP Applied Technologies) was contracted by IHI E&C to take the lead on the waterproofing for the main central section of the bridge. The application process of the ELIMINATOR® system was completed within four weeks. In that time, Authorised Contractor Erse applied 76,000m2, covering the entire central section of the bridge. In addition, the SAFETRACK® HW High Friction Surfacing system was applied on the bridge's walkways to provide a long lasting, anti-skid finish.
The speed and ease of application of the ELIMINATOR® system, together with the fact that each element of the system cures in under an hour, helped facilitate quick contract progression.
Based on unique ESSELAC® technology, ELIMINATOR® provides a tough, durable membrane that can withstand difficult site conditions. This will extend the service life of the bridge and reduce maintenance costs.
Blue360sm Total Business Advantage.
The power of GCP products, performance and people
ca.gcpat.com | North America customer service: 1-877-4AD-MIX (1-877-423-6491)
Ce document est à jour seulement à la date de la dernière mise à jour indiquée ci-dessous et n'est valide que pour une utilisation au Canada. Il est important que vous consultiez toujours les informations actuellement disponibles sur l'URL ci-dessous pour fournir les informations les plus récentes sur le produit au moment de l'utilisation. Des documents supplémentaires tels que les manuels de l'entrepreneur, les bulletins techniques, les dessins détaillés et les recommandations détaillées ainsi que d'autres documents pertinents sont également disponibles sur www.ca.gcpat.com. Les informations trouvées sur d'autres sites Web ne doivent pas être utilisées, car elles peuvent ne pas être à jour ou applicables aux conditions de votre site et nous déclinons toute responsabilité quant à leur contenu. S'il y a des conflits ou si vous avez besoin de plus d'informations, veuillez contacter le service client de GCP.
Last Updated: 2018-12-12
https://ca.gcpat.com/en/about/project-profiles/osman-gazi-bridge-protected-long-term