ACI certification builds concrete wisdom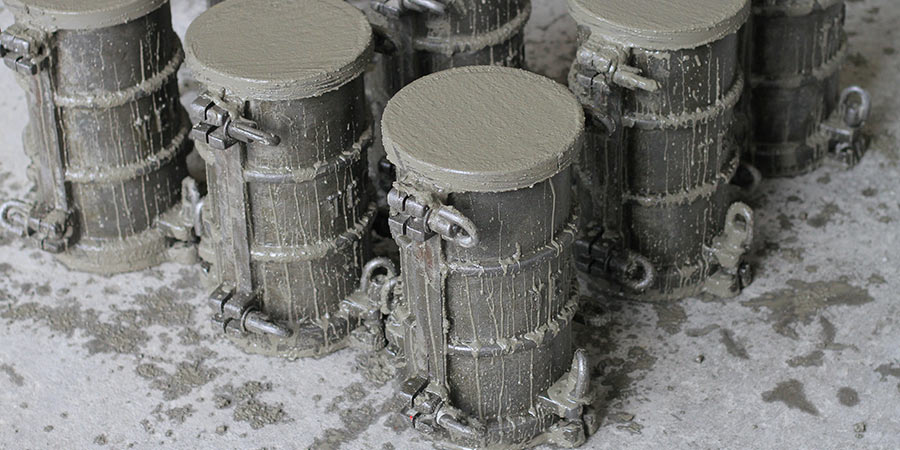 If you visit the American Concrete Institute's (ACI) website, you'll soon learn why becoming ACI-certified for testing concrete is important, and necessary for building sound, safe, sustainable structures. This is why most of the chemists, engineers and technicians who work in GCP Applied Technologies' Research & Development concrete labs are ACI-certified. Yet, hardly any of the concrete they produce ever makes it to an edifice. Their primary products consist of cylinders cured from finely tuned mixes, each representing the compressive strength of a very specific mix.
Many of these cylinders are the result of rigorous tests on GCP's latest admixture formulations to achieve the desired results within a given concrete mix.
Why, then, is ACI certification so important in such a controlled—the lab is kept at an ideal 70°F—environment?
The reason is simple: consistency and reproducibility:
When one of GCP's engineers is testing the concrete slump, for example, they are performing the test the same way a field technician performs the ASTM slump test1 on the job site. When the lab technicians test temperature, unit weight or plastic air content, they abide by the ASTM temperature test2 and the unit weight, yield, air content standard3, respectively. Through an ongoing mission, ACI, GCP, concrete producers, independent testing laboratories and others continue to work together to focus on providing training programs for industry members, which enables the industry to consistently deliver reliable data to customers.
GCP lab employees perform these tests to ensure reproducibility and consistency between lab and field concrete testing.
"Otherwise, we're comparing apples to oranges between the concrete that's made in the lab to the concrete mixed in the field," said GCP Concrete Laboratory Manager Kevin Murnin.
Most of GCP's lab personnel are certified beyond just field testing. Some also carry expertise in aggregate testing, concrete laboratory testing and concrete strength testing. All to augment their practical knowledge of concrete's behavior.
Furthering the consistency initiative, GCP's concrete lab is regulated by the Cement Concrete Reference Laboratory (CCRL), vetting against 900+ labs across the country. The lab also works with the American Association of State Highway and Transportation Officials (AASHTO) and the Department of Transpiration (DOT) to ensure concrete compliance and acceptance. Operator to operator and lab to lab, GCP's R&D is on par with national standards…and strives to exceed expectations.
Knowledge + Experience = Concrete Wisdom
Having highly qualified ACI-certified personnel is very important when testing new technologies, such as control flow concrete, a new high flow concrete produced using conventional mix designs and GCP CONCERA® admixtures.
The Concrete Lab's smaller size trial mixes may not produce workable concrete you'd see in a building within a prominent skyline, on a highway road or holding up some impressive bridge. It could be argued, however, that the knowledge extracted from the countless mixes these engineers test will last long after any of these buildings are gone. And will continue to push the technological limits of concrete.
1. ASTM C143/C143M—Slump of Hydraulic-Cement Concrete
2. ASTM C1064/C1064M—Temperature of Freshly Mixed Hydraulic-Cement Concrete
3. ASTM C138/C138M—Density (Unit Weight), Yield, and Air Content (Gravimetric) of Concrete
Tags
CONCERA®
Cement production
Concrete
Concrete admixtures
Engineer
Structural Solutions