A crowd-pleasing job at one of the world's largest aquariums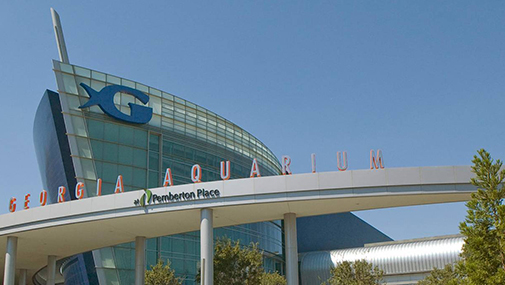 Owner
Georgia Aquarium, Inc., Atlanta, GA
Concrete Supplier
Lafarge North America, Atlanta, GA
Contractor
Brasfield & Gorrie, Atlanta, GA
Concrete Admixtures
GCP Applied Technologies
Structural Engineer
Uzun and Case Engineers, Atlanta, GA
Architect
Thompson, Ventulett, Stainback & Associates, Inc. (TVS), Atlanta, GA
Owner Representative
Heery International, Atlanta, GA
GCP Solution
ADVA® superplasticizer, DCI®-S Corrosion Inhibitor, STRUX® 90/40
Project
Designed to look like a modern Noah's Ark, the new Georgia Aquarium, a commercial building in downtown Atlanta (www.georgiaaquarium.org), is destined to be the largest aquarium in the world, with 2.2 million annual visitors as of 2017. The imposing facility includes more than 505,000 square feet of conditioned space housing and more than 100,000 animals in eight million gallons of fresh and saltwater.
"The aquarium was one of our more demanding projects because of its scope and unusual features and structural elements. Timing and communication were crucial, and we did a very good job of both."
Challenge
The Georgia Aquarium's concrete viewing tanks are among the largest in the world—33' tall, with 4' thick walls at the base. These walls have many pipe insets, and the tanks themselves contain saltwater.
The concrete supplier, Lafarge North America, therefore had to deal with congested forms that required long-term corrosion resistance. Lafarge developed a close working relationship with a team from GCP Applied Technologies in order to meet these challenges head-on.
Solution
In order to deliver high-strength concrete into highly congested forms, Lafarge added GCP's ADVA® superplasticizer to its proprietary self-consolidating concrete mixture, Agilia®. The self-consolidating concrete moved easily through the congested forms, while the AVDA® superplasticizer delivered strengths above 8000 psi—33% over design specifications.
GCP's DCI®-S corrosion inhibitor was incorporated into the mixture. This admixture resists corrosion from saltwater, and extends the lifecycle of concrete exposed to marine environments. 
Lastly, STRUX® 90/40 synthetic macro fiber reinforcement was used for secondary reinforcement in slab-on-ground concrete throughout the structure, including concrete walkways, areas near the tanks and other high traffic locations. STRUX is safer to use, reduces the potential for damage to waterproofing materials placed under the concrete and eliminates the risk for corrosion in this commercial building compared to other types of reinforcement.
Results
The Aquarium opened as scheduled. The contractor noted that the STRUX fibers ease of handling helped his company maintain their schedule, allowing the Aquarium to open on time.
The use of STRUX for high-traffic walkways and DCI®-S for the tanks extended the lifecycle of the concrete in these areas, allowing the museum to save on maintenance in the long-term. Similarly, the use of ADVA® superplasticizer ensured that the pipe inset areas of the tanks would remain intact under the highest strains.
John Brett, Commercial Project Manager for Lafarge, says " The mixes have performed very well, and we have been able to adapt quickly
to the fast-changing demands of this project."
ca.gcpat.com | North America customer service: 1-877-4AD-MIX (1-877-423-6491)
Ce document est à jour seulement à la date de la dernière mise à jour indiquée ci-dessous et n'est valide que pour une utilisation au Canada. Il est important que vous consultiez toujours les informations actuellement disponibles sur l'URL ci-dessous pour fournir les informations les plus récentes sur le produit au moment de l'utilisation. Des documents supplémentaires tels que les manuels de l'entrepreneur, les bulletins techniques, les dessins détaillés et les recommandations détaillées ainsi que d'autres documents pertinents sont également disponibles sur www.ca.gcpat.com. Les informations trouvées sur d'autres sites Web ne doivent pas être utilisées, car elles peuvent ne pas être à jour ou applicables aux conditions de votre site et nous déclinons toute responsabilité quant à leur contenu. S'il y a des conflits ou si vous avez besoin de plus d'informations, veuillez contacter le service client de GCP.
Last Updated: 2018-12-12
https://ca.gcpat.com/en/about/project-profiles/georgia-aquarium-more-just-waterproofing-a-fish-tank