Project
Q1 Tower, Gold Coast, Australia
Engineers
Ove Arup & Partners
Construction/Developer
Sunland Group LTD.
Concrete Supplier
Readymix Concrete
GCP Solution
ADVAⓇ 133 superplasticizer
Project
Q1, the world's tallest residential tower, with its striking architecture, is an impressive enhancement to the Gold Coast skyline. The tower has a 10-storey observatory, as well as the fastest lifts in the Southern Hemisphere. It also has the world's longest spire at 97.5 metres.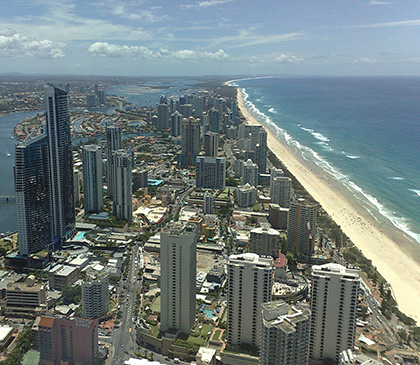 "Readymix chose ADVA® 133 superplasticizer for the following reasons: excellent slump control, increased fluidity to assist pumping, minimal retardation at high slumps, high-performance finishing, excellent for controlling set times and minimal slump loss."
Challenge
To construct a commercial building of such height required the very best superplasticizer available, as all concrete needs to be pumped, right up to level 80, some 259 metres above ground. The concrete also had to meet a slump range of 160 mm to 200 mm for different floor levels because of rebar interaction.
Solution
Concrete supplier, Readymix, approached GCP Applied Technologies for the new generation ADVA® 133 High Range Water-reducer based on a revolutionary co-polymer technology. It displays superior cement agglomerate dispersing characteristics resulting in lower dosages for higher and better slump control. ADVA® 133 superplasticizer  allows concrete to be produced with very low water to cement ratios without affecting workability and is ideal for high slump concrete where there is restrictive rebar interaction.
This highly effective superplasticizer allows for quick placement of concrete without segregation or loss of strength for the commercial building.
All concrete was pumped to various levels, with no intermediary pump being used.
The Final Results
The project was struggling to meet deadlines when it reached 50 floors as construction stopped at more than 30 knots wind speed—there were high wind speeds especially from floors 60 and above. Thanks to the use of ADVA® 133 and the Readymix mix-design adjustments the project came back on schedule by the time it reached the 80th floor.
ca.gcpat.com | North America customer service: 1-877-4AD-MIX (1-877-423-6491)
Ce document est à jour seulement à la date de la dernière mise à jour indiquée ci-dessous et n'est valide que pour une utilisation au Canada. Il est important que vous consultiez toujours les informations actuellement disponibles sur l'URL ci-dessous pour fournir les informations les plus récentes sur le produit au moment de l'utilisation. Des documents supplémentaires tels que les manuels de l'entrepreneur, les bulletins techniques, les dessins détaillés et les recommandations détaillées ainsi que d'autres documents pertinents sont également disponibles sur www.ca.gcpat.com. Les informations trouvées sur d'autres sites Web ne doivent pas être utilisées, car elles peuvent ne pas être à jour ou applicables aux conditions de votre site et nous déclinons toute responsabilité quant à leur contenu. S'il y a des conflits ou si vous avez besoin de plus d'informations, veuillez contacter le service client de GCP.
Last Updated: 2018-12-12
https://ca.gcpat.com/en/about/project-profiles/q1-tower-reaches-new-heights-gold-coast-australia