LGA® High Efficiency Grinding Aid and Pack Sest Inhibitor
High efficiency grinding aid and pack set inhibitor
Introduction 
The LGA® series of cement additives is formulated to provide grinding efficiency that is superior to that of traditional grinding aids based on amines or glycols. Laboratory grinds comparing LGA with traditional glycol-based additives have indicated increases in grinding efficiency of 15% at Blaine fineness of 3500–4000 cm2/g for Ordinary Portland Cement.
Product Description 
LGA consists of a mixture of special amine salts that are then formulated with more traditional amines or glycols. It is available with either an amine base, as LGA and LGA 70, or with a glycol base, as LGA N, or a blend of amine and glycol, as LGA N 50, to better meet the unique performance requirements of different milling systems. In addition to providing increased grinding efficiency, LGA products also effectively inhibit pack set.
Specifications
| | |
| --- | --- |
| Active Ingredients | 69.0–81.0 |
| Specific Gravity | 1.09–1.15 [@77 °F (25 °C)] |
| pH | 6–9 |
Typical Properties
| | |
| --- | --- |
| Appearance | Dark brown, low viscosity solution |
| Odors, Fumes | Alcohol odor with no noxious or toxic fumes |
| Foaming Point | None |
| Freezing Point | 15 °F (-10 °C) |
Product Advantages 
Increased mill output at same cement fineness

Reduced grinding costs

Improved dosage efficiency

Higher cement strengths

Increased cement flowability
Recommended Addition Rate 
According to GCP experience, the typical dosage of LGA as received ranges from 0.02% to 0.06% of cement. The optimum addition rate should be determined through cement mill tests in consultation with GCP personnel.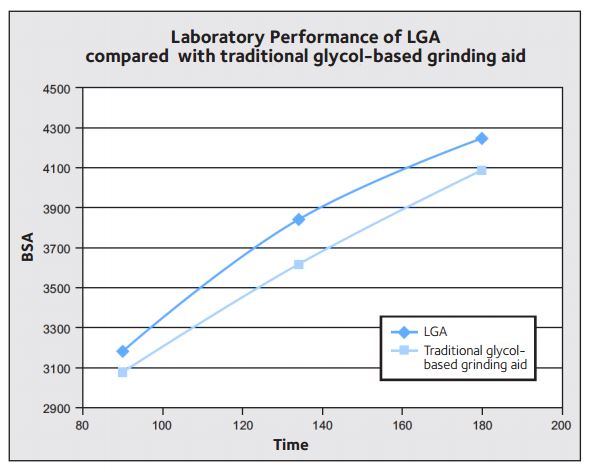 How to Use 
LGA may be proportioned as received; however, dilution with four to eight parts of water is normally recommended in order to facilitate greater proportioning accuracy and better additive distribution. Where extremely small addition rates are used, even greater dilution is recommended.
For dilution, suitable dispensing pumps with adjustable flow rates should be used for optimum performance. It is desirable to introduce LGA into the first compartment of the finish grinding mill to effect maximum distribution and efficiency of the product.
Dosing Equipment 
GCP LGA high efficiency grinding aid should be accurately proportioned through a calibrated dosing system, suitable for the cement mill and the output required.
Specification Compliance 
LGA is approved for use under ASTM C465 specification as a non-harmful processing addition. It has been thoroughly tested and a test report is available from GCP upon request.
Packaging 
LGA is available in 55 gal (210 L) drums, in totes or in bulk by tanker trucks. It contains no flammable materials.
Health & Safety
All precautions defined on the SDS (Safety Data Sheet) for LGA must be followed.
Storage 
Where it is expected that the storage tanks will be exposed to freezing temperatures, provisions should be made for insulating and heating the tank and lines in order to prevent excess viscosity and to aid pumpability.
Technical Services 
Field Engineers from GCP are available to assist in laboratory and mill test evaluations of LGA. Complete testing equipment and methods for analyzing mill performance and pack set index are also available during plant trials.
ca.gcpat.com | North America customer service: 1-877-4AD-MIX (1-877-423-6491)
Ce document est à jour seulement à la date de la dernière mise à jour indiquée ci-dessous et n'est valide que pour une utilisation au Canada. Il est important que vous consultiez toujours les informations actuellement disponibles sur l'URL ci-dessous pour fournir les informations les plus récentes sur le produit au moment de l'utilisation. Des documents supplémentaires tels que les manuels de l'entrepreneur, les bulletins techniques, les dessins détaillés et les recommandations détaillées ainsi que d'autres documents pertinents sont également disponibles sur www.ca.gcpat.com. Les informations trouvées sur d'autres sites Web ne doivent pas être utilisées, car elles peuvent ne pas être à jour ou applicables aux conditions de votre site et nous déclinons toute responsabilité quant à leur contenu. S'il y a des conflits ou si vous avez besoin de plus d'informations, veuillez contacter le service client de GCP.
Last Updated: 2018-12-12
https://ca.gcpat.com/en/solutions/products/lga-high-efficiency-grinding-aid-and-pack-sest-inhibitor